6th Form Area - Y 6ed Dosbarth
Sixth Form @ Haverforwest High VC School
Head of 6th Form: Mrs Laura Buffee l.buffee@haverfordwesthigh.co.uk
Achievement Leader: Mr Gareth Collier g.collier@haverfordwesthigh.co.uk
Sixth form administration: Mrs Taryan Emery-Davies t.emery-davies@haverfordwesthigh.co.uk
Click here to view our NEW WEBSITE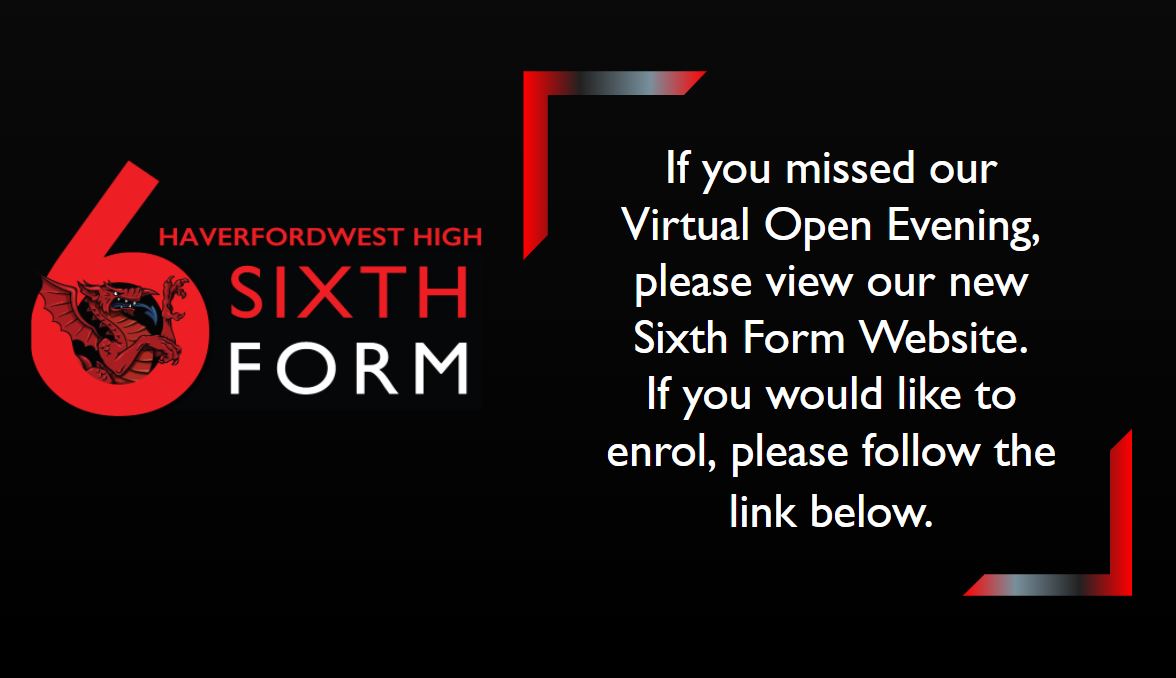 Our Sixth Form acts as a natural progression from school to adult life.
Students are given more flexibility to structure their study around lessons. Coupled with more freedom comes more responsibility for personal learning as well as for the school. Sixth form students are role models for the rest of the school and our high standards are expected to be upheld by our older students.
There are a broad range of subjects currently on offer, including Geology and Further Maths among the more usual subjects offered at GCSE level. Pupils have the option to choose three or four A-level subjects initially, with the flexibility of reducing the workload in the second year of sixth form. The majority of students will study the Welsh Baccalaureate at Advanced Level. All of the Sixth Form teaching provision is on the Prendergast site, with a team of staff dedicated to supporting Sixth Form students. They help students with organising work experience, applications to University, and of course academic work.
In study periods, most students choose to use the E-learning study space to do homework and revision. This is a valuable facility complete with computers, lockers, and large workspaces. It is the hub for Sixth Form activity, where pupils can go if they have any issues or if they simply want to work. There is a common room which is purely for the members of the Sixth Form. This is a relaxing area which is full with pupils socialising during break times. Heading into Haverfordwest town is permissible, but staff monitor pupils' progress and take the necessary steps when they don't meet expectations.
When choosing Sixth Form, pupils can feel assured they will have an enjoyable experience whilst developing academically and socially. Extra-curricular activities can be continued seamlessly and students will return to see the familiar and welcoming faces of their teachers.
Please contact us with any queries.